"We have been feeding Hay-Rite Premium Alfalfa Cubes and Hay-Rite Complete Equine Pellets exclusively for a year. My horses have never looked better! Pictured is our 10 year old cremello stallion Dun It In Platinum an own son of Hollywood Dun It. I've attached a few photos of other horses on HAY-Rite products. There is no doubt they love Hay-Rite Cubes and Pellets! Thank you, Hay-Rite, for a constant supply of Superior Grade products, always at fair prices!" ~ Debbie Forzani
---
| | | |
| --- | --- | --- |
| | "I've always had healthy horses. My horses were shiny and fit, but I've never had a "HAY-RITE Healthy" horse until now. Since feeding HAY-RITE, my sorrel mare has dark beautiful dapples. She is looking, feeling, and performing better than ever. She loves eating her HAY-RITE cubes! Thank you HAY-RITE for an incredible product and for friendly service. ~Soft Touch Equine Services | |
---
| | | |
| --- | --- | --- |
| | "Are you unhappy with how your horse looks? No matter what you feed they just aren't looking better? If you are having this problem like many horse people do, I highly recommend feeding HAY-RITE cubes! I have suffered with keeping weight on "Lance" most of the time I've owned him, until I switched to HAY-RITE cubes. Lance has never looked better! And best of all it's a mess-free product with no waste!" ~Tessa Huston | |
---

"We have been using Hay-Rite Complete Equine and Hay-Rite alfalfa cubes for over 2 yrs and not only do our horses love it they have never looked better. We drive 12 hrs and buy it by the ton and it is always fresh and the consistency is always the same. Thank you for making such a high quality feed that tastes great and is second to none." ~Kathleen Jones
---
| | |
| --- | --- |
| | "Hay-Rite cubes are the best on the market. The quality control for me is a necessity. Anytime a feed is cubed or pelleted the company can put anything in it and no one would know difference. I trust Hay-Rite to put nothing but the very best alfalfa in my cubes. There is no waste. My horses eat every bite. They all stay fat and slick even in heavy training. I urge you, if you haven't tried them, to call Jim Willey in Weatherford,Tx to get a sample bag. You won't be disappointed!!" ~ Pete Branch, Ei Cid Ranch Farwell, TX |
---
| | |
| --- | --- |
| "My horses love the Hay-Rite alfalfa/oat mini cubes, especially Cruiser my retired 23 year old gelding. I won $850,000 on him and the 2002 World Champion Barrel Racing Championship. In the past I was skeptical about feeding only hay cubes. I was worried they would choke and I wondered if they were getting enough roughage. I'm not worried about that anymore because my horses eat them fine and they salivate when eating them, which helps them with digestion. Feeding high quality hay is very important to maintaining healthy/winning horses. Hay-Rite has top quality hay in every cube and guaranteed consistent nutritional value. I know your horse will love them too!" ~ Charmayne James | |
---
| | |
| --- | --- |
| | "I've been feeding HAY-RITE products for 6 years and my horses perform well and look great. We feed HAY-RITE to about 80 horses twice a day. Feeding HAY-RITE makes traveling to shows much easier. We appreciate the service we get and always know the loads will arrive on time and in good condition. We have had no problems." ~ Austin Shepard |
---
| | |
| --- | --- |
| "We have been feeding "HAY-RITE" cubes for over 5 1/2 years because they look and smell better than any other alfalfa cube out there and they are consistently lower priced than the other brands. We have found the HAY-RITE cubes to be the best way to feed our horses both economically and nutritionally, not to mention the fact that they are much easier to feed and take up a lot less space in the barn or trailer!" ~ Mark Michels Cutting Horses Inc. | |
---
"We have been feeding HAY-RITE cubes for several years now with zero problems, none not any, both here in Ft. Worth and Pagosa Springs, Colorado. The convenience alone makes them worth it but have never felt they weren't getting the nutrition they needed. Our using horses and pack mules go as good as any and better than a lot. Lisa's good horse, Ft. Worth Pipe Line aka "Piper" was raised on them. So, yes, we recommend them. Jim Willey is okay too………actually better than okay but I have a reputation to uphold."
~ James Bankston
---
| | |
| --- | --- |
| "Lica and I started using HAY-RITE several years ago due to the fact that the truck loads of alfalfa we were getting from different parts of the country were inconsistent. HAY-RITE is convenient and easy to feed, a great product." ~ Lica and John Pinkston | |
---
| | |
| --- | --- |
| | "We've been feeding HAY-RITE products for a few years and we are very pleased with the cubes, the service and the results. I've noticed that at the end of our 3 week shows the horses still look fat and healthy. In the past they would get real skinny at the end of the show. We feel that HAY-RITE Premium cubes are the best choice for us because they are made with SAFE Western alfalfa and they always arrive fresh and on time." ~Wes Galyean |
---
| | |
| --- | --- |
| "I've been feeding HAY-RITE Alfalfa Cubes for about 2 years to my horses and cattle and have seen all the difference. The cubes are from the best Western alfalfa and are always fresh and in stock. I've looked at the competitors, the cost and the results, and I'm sold on HAY-RITE." ~ Randy Snodgress | |
---
| | |
| --- | --- |
| | "HAY-RITE cubes are the easiest, most economical feed that I have ever fed. They have absolutely no waste. The consistency is impeccable. My horses attitudes and body condition are easy to manage. Jim has been great to work with, I couldn't be more satisfied." ~Leddy Lewis |
---
| | |
| --- | --- |
| "HAY-RITE alfalfa cubes are the most reliable and economical way to feed our horses. No worries about drought or quality, which makes running our business more efficient. Not to mention the horses love them and do great on them. Thank you HAY-RITE for taking care of us these past few years." ~ Craig and Sasha Thompson | |
---
| | |
| --- | --- |
| | "We've been feeding HAY-RITE cubes for over three years to our cutting horses and race horses and the horses feel and look great. We believe that feeding the cubes makes sense. There is no waste, they are easy to handle and easy to store. You can put the cubes in their feed pan or in their trough. The protein is consistent, which is very important to us. When you order 24 tons from HAY-RITE you get 24 tons, unlike a load of hay. Jim is easy to deal with…. You call him and tell him what you want and it's done. I highly recommend HAY-RITE to anyone in the horse industry." ~ Zach Isbell - Isbell Quarter Horses |
---
"Eli has done so awesome on your HAY-RITE cubes. He has always been a very hard keeper, and we always had to feed him a lot of grain to keep his weight up. I raised this horse so I know him well. Since I've put him on your cubes I have stopped feeding grain altogether. I was skeptical at first because I've always fed grain, but feeding the cubes has made it so convenient and less stressful for me because I have a constant supply of good alfalfa cubes and he is a happier horse because he isn't eating as much and having digestion issues. I might add he is a hair under 17 hands and 1400 lbs. I've actually saved money by feeding your cubes. Thank you so much for your help and expertise. " ~Jackie Walker-Kinslow

Please note: Jackie didn't mention that Eli is a Six Times World Champion Halter Horse.

---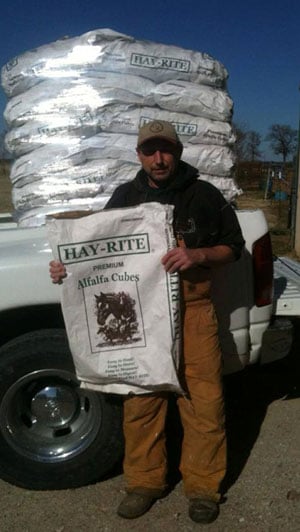 "I have fed hay cubes for 24 years and HAY-RITE cubes for 5 1/2 years. Being a lifetime horsemen and 23 years Master Certified Equine Dentist these, I believe, are just some of the benefits of feeding HAY-RITE Premium Alfalfa cubes.
Horses learn to break up the cubes with their incisors, the same as if they were grazing. Grazing in the pasture, or eating HAY-RITE cubes causes a horse to wear their incisors so the molar teeth can stay in closer contact keeping the mouth more balanced. Feeding flaked hay and grains, a horse loads their mouth from the side causing the horse to not use their incisors at all. Horses with out of balance teeth or older horses with almost no teeth do very well on these cubes. During processing the HAY-RITE cubes are compressed into shorter and smaller fibers. While chewing, once the saliva moistens those fibers, the cubes just fall apart.
For older horses, and when traveling with horses that don't drink well on the road, you can soak the cubes before feeding. This will keep them hydrated and it makes the cubes even easier to eat. For the older horse it helps them gain weight and keep it on. For the traveling horse it helps maintain their weight.
The shorter, smaller fibers of the HAY-RITE cubes makes them more digestible than hay. To break down long stemmed and coarse hay the horse has to produce more acid in the gut. This over production of acid can cause ulcers.
Because of the cubes digestibility the horses manure is smaller, firmer and more individualized. This cuts back considerably on the chance for impaction and colic. It also makes stall cleaning easier and faster.
By feeding 8 lbs of HAY-RITE cubes in a bucket you have a considerable less amount of waste vs. hay. Traveling long distances is much easier with bagged cubes. Bagged cubes keep you and your trailer cleaner than with baled hay. Cubes don't blow around in your trailer and are less dusty than hay.
Most feed stores all over the United States carry cubes and most cubes are about the same consistency, especially in the West. This helps keep your horse on a consistent diet. By wetting down the cubes and dumping in the mangers or hanging a bucket you keep food moving through your horses system.
Horses don't get the highs and lows in personality as they do when eating grains. There's no sugar spikes in a horses system when on HAY-RITE cubes. You have less tying up and an owner is able to stay more consistent with their feeding program, even when days off or having to be stalled. I haven't fed grains for the last 3 yrs.
As an avid Team Roping competitor I've noticed my horses have stayed fit, almost fat and certainly healthy on HAY-RITE cubes. They have plenty of "go" without having to "ride them down" to get their minds right. For a 1000lb horse I feed about 8 pounds 2x a day, but you could feed more or less depending on the horse and its use.
To me HAY-RITE Premium Alfalfa Cubes are the best money spent for feed.
These statements are my professional opinion after studies done on thousands of horses over 23 years."
~Randy Riedinger
Master Certified Equine Dentist
Licensed by The Texas Board of Veterinary Medical Examiners.

---
| | |
| --- | --- |
| "I have cutting horses and have fed alfalfa and grain for years. I have a fantastic horse that is a World Champion and multiple aged event finalist. He has won about $150,000 and is a big part of our family. He also has severe allergies and COPD. With spring being the worst time for him, we have been unable to ride and show him due to the allergies. After switching him to HAY-RITE Premium Alfalfa Cubes he is completely back to normal. I am completely sold on the product! I'm currently in the process of switching my entire herd over to the cubes. Thank you HAY-RITE! We have our horse back!" ~April Hames Widman | |
---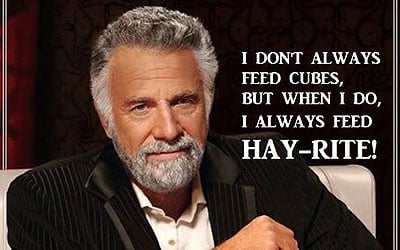 Jim Willey
HAY-RITE
2290 Mineral Wells Hwy.
Weatherford, Texas 76088
Main 817-599-3343
Sales 817-599-3200
jim@hay-rite.com